Simply Classical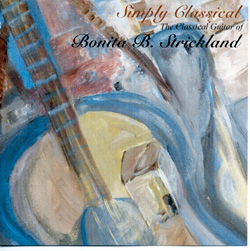 Simply Classical, released March 2009, is 15 pieces that will take you on a journey of time. I hope you enjoy your trip.
A Tale of Time was composed ten years ago. It tells a story in a melodic way; a story of time, of love, hope and peace. This piece is dedicated to my late father John W. Barr (The Guitar Man).
Here are samples from the Simply Classical CD.
A Londonderry Air A Tale of Time If I Fell Romanza Snowflight
Purchase price for the CD is $20.
Here is a full track listing of the songs on the Simply Classical CD.
Snowflight - Andrew York
Sherry's Waltz - Andrew York
Romanza - Spanish origin (composer unknown)
Maracatu (Brazilian Folk Tune) - Isaias Savio
Modinha (Brazilian Folk Tune ) - Isaias Savio
If I Fell - John Lennon and Paul McCartney
Aria - Joh. Anton Logy
Sarabande - Joh. Anton Logy
Romance - Francesco Molina
The Leaving of Liverpool - Traditional
St. Patrick's Day In the Morning - Traditional
A Londonerry Air - Traditional
Largrima - Francisco Tarrega
Morning Has Broken - Traditional
A Tale of Time - Bonita B Strickland